Wow…did you know children laugh 300-400 times a day and adults only laugh 10-15 times!!
Laughter Yoga is not like ordinary yoga with 'poses' but instead combines the yogic breathing and laughter exercises done with childlike playfulness that is fun and offers so many benefits.

"I laugh more often and more readily now" Gypsy Scott, Laughter Yoga Upper Hutt.

Read below how Laughter Yoga started and all the laughter options you can do – Monday nights in Upper Hutt; having a laughter session for your group; train to be a Laughter Yoga Leader and run the sessions yourself; 1-1 Laughter Coaching if you can't make it to a group or don't want to do the training and of course the testimonials 🙂


How Laughter Yoga Started
Laughter Yoga was established by Dr Madan Kataria, a medical doctor in India in 1995.
He was inspired by research showing how beneficial laughter was so he started with 5 people and after their jokes and funny stories ran out, he researched more and discovered that the body can't tell the difference between real laughing and pretend laughing – the Laughter of Laughter Yoga.
He started to see the similarities between laughter and pranayama yoga relating to the breathing so together with his wife Madhuri, they incorporated yogic breathing – the Yoga of Laughter Yoga.
Watch the video below, to hear Madan talk about Laughter Yoga , or read this article and/or check out their website Laughter Yoga International for lots more information.


Laughter Yoga with Clare




Laughter Yoga Testimonials
Thoroughly enjoyed it. What began as 'false' laughter soon became 'real' laughter which became contagious amongst our group – Jared. PACT Group

Fun, Fabulous, Endearing, Engaging – Tina.
Clare helped me to relax and come out of my comfort zone. Great teacher. Fun experience – Leeannah. Vitae Head Office Wellington

Very interesting & therapeutic. Backed up by evidence. Excellent experience – from David. Tu Ora Compass Health Porirua

It was a fantastic session. I felt awkward but let go of that and had a wonderfully fun time. I'm glad I gave it a try!
Great session and fun. GNS Conference

Lots of discussion and feedback about the session from staff. This morning one person said to me that while she found the session a little bit out of her comfort zone, when she got home she reflected and realised she was feeling very relaxed. Another sent the wellbeing team an email to say that she found it really neat and that the lack of laughter in offices is a thing she struggles with, so really appreciated it. QEII National Trust

I came to laughter yoga out of curiosity and I just loved it from the start. I'm laughing way more and at things I didn't laugh at before. It's not only a nice time at the session with the people and activities, but it actually works to bring more laughter in your life and I think that is priceless. Sandra – Laughter Yoga Upper Hutt

I came to laughter yoga because I wanted to freely laugh without any judgement, to have fun again and nurture my inner child. From a rough time beforehand I have found myself and am now at peace with who I am and Laughter Yoga helps me to maintain that. I enjoy it so much and it feels good to laugh, be in the moment and to fully be me. Laughter Yoga Upper Hutt

More Testimonials…
Buy a Laughter Yoga t-shirt. There are many different styles, colours and images to chose from and if you want a combination that isn't there, let me know and I'll set it up for you.
A fellow laugher Fiona who is also a design whizz, has been helping me with the t-shirts. Check out https://www.fionabowden.com/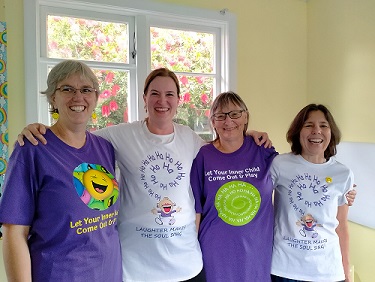 Subscribe to a little laughter coming into your inbox…